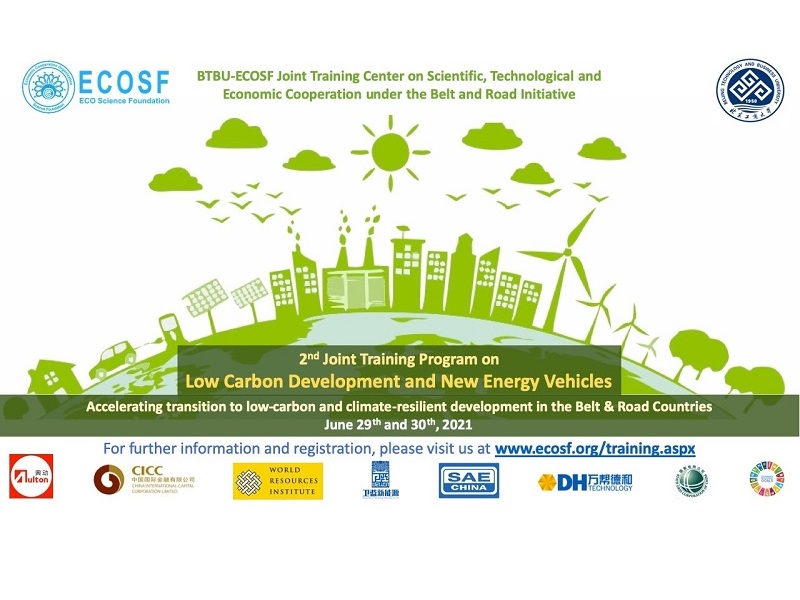 2nd Virtual Training on Low Carbon Development and New Energy Vehicles
---
Climate Change is the biggest risk to mankind and one of the greatest global challenges of the 21st century, which needs to be addressed through international cooperation in the context of sustainable development. China has emerged as a global climate leader with its announcement in 2020 that the nation would aim to achieve "carbon neutrality" before 2060. China already leads the world in clean energy technologies and it is by far the largest investor, producer, and consumer of renewable energy.
Hence, ECO Science Foundation (ECOSF) is making this attempt to bring China's extensive expertise and best practices in renewables, energy efficiency, digital energy, and new energy vehicles to other Belt and Road (B&R) countries. This foundation plans to achieve this goal by utilizing BTBU-ECOSF Joint Training Center under Belt and Road Initiative (BRI) that established in 2020 in collaboration with Beijing Technological and Business University (BTBU) in China.

In view of the urgent needs of the Belt and Road countries to resume economic development and capacity building in the post-pandemic era, this Centre plans to organize the 2nd virtual Training Program on "Low Carbon Development and New Energy Vehicle under the Belt and Road Initiative" to accelerate the transition to low-carbon and climate-resilient development on June 29-30, 2021 (training brochure is enclosed). In this backdrop, this training program will seek to understand and learn about viable options for low carbon transition, best practices, success stories, and barriers on implementation of policies and programs promoting low carbon development, and match the potential cooperation among BRI counties in clean energy, charging station and new energy vehicles.

BTBU-ECOSF Joint Training Center invites interested individuals to participate and benefit from this training program on the emerging role of low carbon technologies and the registration is available at http://ecosf.org/training.aspx by June 25th, 2020. The brochure of the training is also available at the same link. Registered participants would receive zoom login details after the registration.