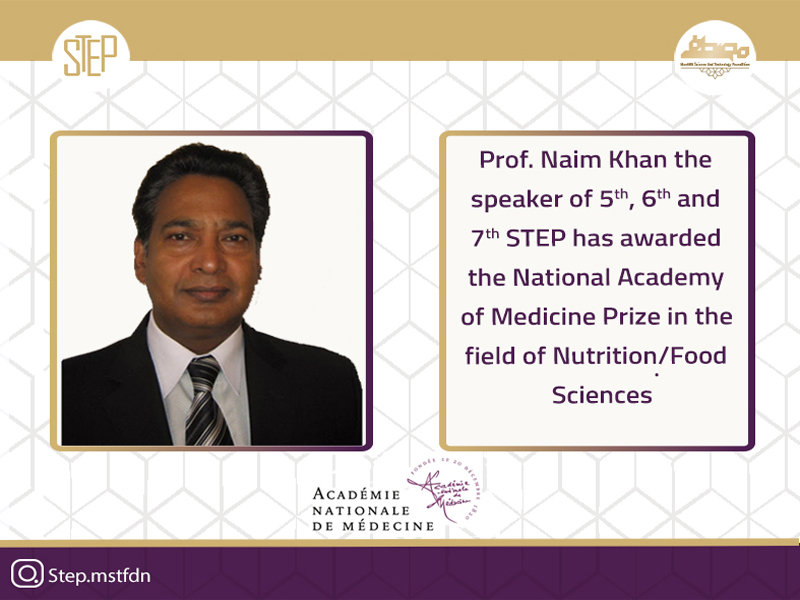 "National Prize in the field of Nutrition/Food Sciences awarded to Prof. Naim Khan by the National Academy of Medicine (France) in reignition of his contribution in taste physiology and obesity management."
---
Prof. Naim Khan the speaker of 5th, 6th and 7th STEP has awarded the National Academy of Medicine Prize in the field of Nutrition/Food Sciences
Short Biography:
Burgundy, Dijon. He won the Robert Naquet Prize from the Société de Physiologie (France) and the Innolec Prize from Masaryk University in the Czech Republic. He obtained his PhD in India, then made a post-doctoral stay at the National Institute of Neurology and Neurosurgery in Mexico City (Mexico). He was Assistant professor at the Faculty of Medicine of Rennes (France) and Associate Professor at the University of Limoges. He is Editor or Associate-Editor of several international scientific journals. Currently, he is the Director of the NUTox Department in Dijon.
Laboratory:
The team, Physiology of Nutrition & Toxicology (NUTox), affiliated to the Inserm Research Center "Lipids, Nutrition, Cancer" UMR / UB / AgroSupDijon 1231, University of Bourgogne-Franche Comté (UBFC), Dijon, is working on the orosensory detection of dietary lipids in pathophysiological situations and, particularly in obesity.
Recent theme of research concerned with the prize:
Obesity is one of the major public health problems of our contemporary world. In the Western diet, the fat accounts for over 40% of daily calorie intake. The NUTox team has discovered that there is a 6th taste quality, destined for the orosensory perception of dietray lipids via two glycoproteins (CD36 and GPR120), located in the taste buds. CD36 is involved in the detection of fatty acids, whereas GPR120 is implicated in the post-ingestive regulation of the lipid meal.
Our clinical (and also experimental) studies have shown, for the first time, that obese subjects (children and adults) have a decrease in orosensory perception of dietary lipids because CD36 is partially functional in obese people. Therefore, to decrease obesity, one can consider the synthesis of lipid receptor agonists. The NUTox team has synthesized the first generation of "lipid taste mimetics" of CD36 and / or GPR120, which are much more powerful than natural fatty acids in terms of hedonic and gustatory value. These lipid mimetics are high affinity agonists of lipid receptors and elicit a greater gustatory preference than natural fatty acids in mice. They decrease food intake and, therefore, exert an anti-obesity effect in obese mice. In fact, these agents by acting on the lipid receptors (CD36 & GPR120) on the taste buds activate the tongue-brain-intestine loop and trigger an early and important secretion of satietogenic agents such as cholecystokinin and glucagon-like peptide-1 which, via their action on the brain, induce early satiety and a decrease in the ingestion of dietary lipids. Two European patents (WO2019229005 & WO2019228994) in the innovation category have been registered in 2019 and a start-up, called "EktaH" is being created on this topic.
This novel strategy to target tongue taste receptors will help curb the incidence of obesity all over the world.